Love is in the air at the Crescent Shopping Centre this week with amazing Gift ideas from our Retailers along with lots of fun activity to get you in the mood for Valentines.
Join us this weekend for a chance to sign our very own VALENTINES LOVE WALL which will be on display in the Main Concourse at the Crescent Shopping Centre.
Its simple.  Place you heart on the wall for a chance to win amazing prizes including a  "His & Her" Watch from FIELDS Jewellers to the value of €650, along with His and Hers Hampers from Boots, and many many more.
Join us this Friday at 6.30pm for Unity Gospel Choir, bringing Valentines weekend to life with a medley of love ballads in perfect harmony.
Join us again on VALENTINES DAY for a day of fun see all the details below.   And if you are stuck for some Gift Ideas why not take a look at the Crescent Shopping Centre Gift Guide for some great Gift Ideas for Him and Her here  .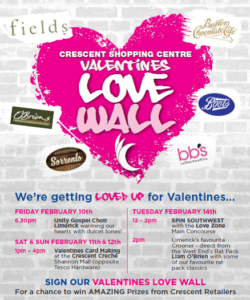 T&C's apply:
Fields Retail Limited terms and conditions apply. Winner has the right to exchange either or both prizes (his and her watches). However, discounts are not available retrospectively. No further discounts can apply on exchange including Privilege Club members. Prizes cannot be exchanged for cash.