The Crescent Shopping Centre was delighted to display up to 100 Christmas Trees as part of the TLC (Team Limerick Clean-Up) "Design A Christmas Tree Competition" where  over 100 Christmas Trees were decorated by Primary Schools all over County Limerick .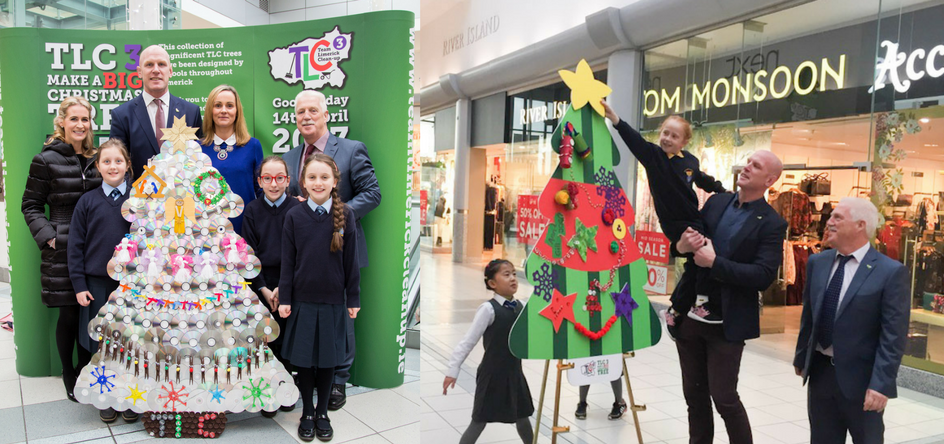 The aim of the competition was to promote greater awareness of TLC amongst a younger audience and promote recycling within schools and our young people.
The standard was exceptionally high with original and creative ideas from all of the Primary Schools who took part demonstrating their keen understanding and enthusiasm for recycling.
Hopefully you were one of the lucky ones who got to see the Trees on display for one week in December, if not, take a sneak peak here
Our heartiest congratulations to the three First Prize Winners who were awarded prizes for their schools by Paul O Connell, Sue Ann Foley, Chair of the JP McManus Benevolent Fund, and John Davitt (Crescent Shopping Centre) who were joined by teachers and students from the three winning categories.

Our Ladys Abbey , 4th Class                     Knocklong N.S. 5th & 6th Class                     Scoil Kilmallock, 1st Class
CATEGORY 1 (Junior- first class)
First prize: School Kilmallock, First Class, Ms. Madeline Lees
Second Prize: School of the Holy Spirit, Junior / Senior Infants, Ms. Murphy
Third prize: St Brigid's NS, Senior Infants, Ms. Curran
CATEGORY 2 (Second- fourth class)
First prize: Our Lady's Abbey, 4thClass, Ms. Trisha Lavin
Second prize: Our Lady of Lourdes NS, Second/third class, Ms. Sarah Hayes
Third prize: Hospital NS, Second class, Miss M O'Gorman
CATEGORY 3 (Fifth- sixth class)
First prize: Knocklong NS, Fifth/sixth class, Ms. Pauline Taylor
Second prize: St Brigid's NS, Sixth class, Ms. Wallace
Third prize: Scoil Mhuire Effin, Fifth/sixth class, Ms. Anne-Maria Murphy

TLC Trees on display at the Crescent Shopping Centre