The Butlers Chocolates Easter Collection 2016
Purveyors of Happiness
Butlers Chocolates has once again created a luxury collection of exquisite chocolate creations for Easter 2016. From Butlers stunning keepsake eggs to beautiful flame wrapped eggs, deliciously decorated hollow eggs and chocolate bunnies, the Butlers Easter collection has something for everyone to indulge in and enjoy this Easter.
Butlers Keepsake Egg Boxes – new for 2016, Butlers Chocolates has created a trio of sophisticated eggs to bring luxury gifting at Easter to a whole new level. Choose from; a Dark Chocolate Easter Egg with decadent 70% Dark Chocolate Gold Dusted Truffles, a White Chocolate Egg accompanied by luxurious Pink Marc de Champagne Truffles or the Milk Chocolate Egg with moreish Milk Chocolate Flake Truffles. Each egg is packaged in a stunning 'powder-puff' style keepsake box and retails at €15.00.

Butlers Wrapped Eggs – The Butlers Wrapped Eggs selection comes in Milk, Dark and White chocolate varieties, each filled with a selection of colourfully foil wrapped mini filled eggs in a mixture of flavours – the quintessential Easter Egg! (Small €8.95, Medium €11.95, Large €14.95 and Extra Large €22.95).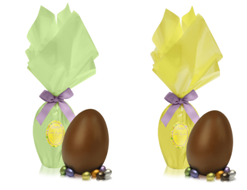 Butlers Egg Tin (€11.75) houses a delicious assortment of filled chocolate eggs in milk, dark and white varieties including Caramel, Lemon Truffle and Praline.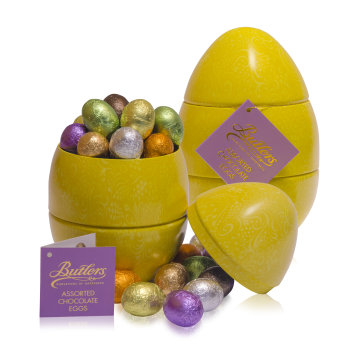 Butlers Novelty Range – Easter is a magical time for children of all ages, so Butlers Chocolates have created a variety of fun-filled novelty gifts for all. Spread delight by gifting children a Butlers Bunny, a delicious hollow milk or white chocolate treat that will delight chocolate lovers of all ages – Baby Bunny, (€3.25), Medium Bunny (€6.00) and original Bertie Bunny (€9.95).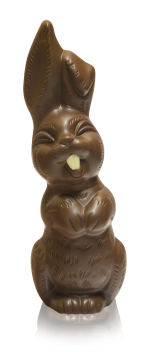 Filled and Hollow Chocolate Eggs – Butlers has a great range of filled and hollow eggs which are perfect for Easter Egg hunts and foodie fans! Butlers 5 Chocolate Egg Box (€15.00) or Butlers 3 Chocolate Egg Box (€10.00) is a gorgeous collection of beautifully decorated, hollow chocolate eggs in a variety of  flavours such as; 70% Dark Chocolate, White Chocolate Mixed Berry and Milk Chocolate Honeycomb Crisp. Finally, Butlers range of mini milk, white and dark chocolate filled eggs in various flavours of Caramel, Lemon Truffle, Praline and many more are available in Butlers Mini Egg Box (€7.50) and Chocolate Egg Stick (€5.50, large €9.50).