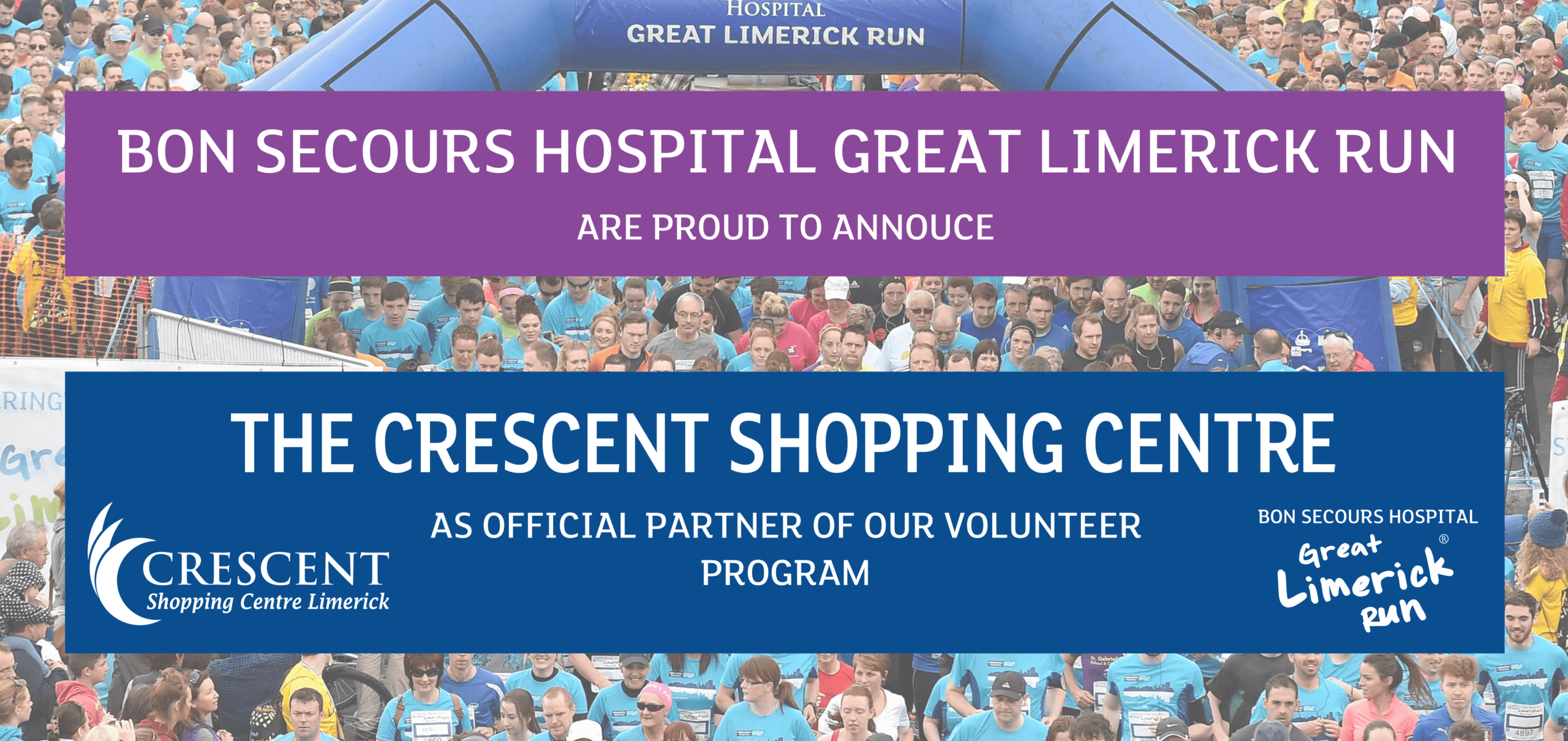 Crescent Shopping Centre to support the Volunteer Program for Bon Secours Hospital Great Limerick Run
The Crescent Shopping Centre have partnered with Bon Secours Hospital Great Limerick Run as the Official Event Partner for the Volunteer Program.
The event which is now entering its 9th year will take place on Sunday May 6th. With over 12,000 runners and between 25,000 – 35,000 spectators, a team of over 600 volunteers will help to deliver the event.
Volunteers for this event come from many local clubs, schools and groups. In addition to the volunteers required on Sunday an additional 200 volunteers are required on Saturday May 5th in the UL Arena for the event Expo.
Volunteers provide a variety of tasks at the event including supporting the Gardai, handing out medals and t-shirts and directing runners along the route of the run to name just a few of these tasks.
"We are delighted to partner with this great event in Limerick and especially delighted to be able to partner with the volunteer program. This event has showcased all that is great about Limerick to a local, regional and national audience consistently over the last 9 years and we are very proud to be part of this great local community story" said John Davitt General Manger of the Crescent Shopping Centre.
The event is the centrepiece of a weekend of celebrations in Limerick this May Bank Holiday weekend. In a recent Economic Impact Report commissioned by Limerick City Council, the event was estimated to be worth €4.5 million to the local economy and with a potential to grow further as numbers increase.
John Cleary the Event Director for the event commented "This event showcases all that is great about Limerick from the route to the musical acts and the love of sport. But it is the people of Limerick that are our greatest asset. The Volunteer program for this event demonstrates the amazing people that are in our communities, schools, groups and clubs. We are delighted and grateful to the Crescent Shopping Centre for their support for this event."
The Crescent Shopping Centre will host events in the lead in to the Great Limerick Run for all runners, walkers and Great Limerick Run enthusiasts, stay tuned to Crescent social media for more details.