The Crescent Shopping Centre is delighted to once again act as official sponsor of  Limerick Racecourse "Crescent Shopping Centre Twilight Most Stylish Competition" which will take place four nights across June and July at Greenmount Park.
Crescent Shopping Centre and Neville Jewellers will supply prize value each night to one lucky winner to the value of €500 in vouchers from the Crescent Shopping Centre &  Neville Jewellers.   Ladies are invited to register in the Munster Suite while enjoying a Prosecco Reception.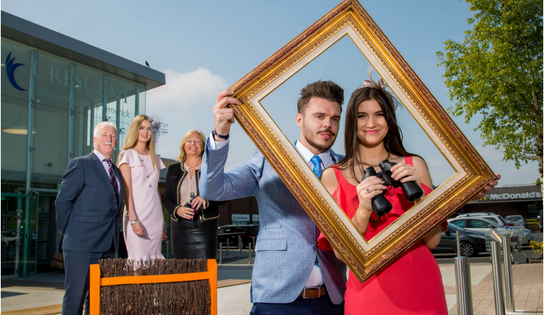 John Davitt, Centre Manager (Crescent S.C.), Anne Quinn (Neville Jewellers, Crescent S.C.)
Models (l-r) wearing Carraig Donn, Chapps, Monsoon, Shoes Xti, Jewellery from Neville Jewellers
John Davitt, Crescent Shopping Centre, General Manager, commented; "The Crescent Shopping Centre is delighted to sponsor Twilight Racing, Most Stylish Lady Competition, at the Limerick Racecourse once again this summer along with Neville Jewellers here at the Crescent.  It's always a fun occasion and a great social outlet for people of all ages in Limerick and the surrounding area.  We are delighted to be part of it, and wish all the ladies luck with competing for Most Stylish look each evening of the races.  Our retailers have race looks at the ready for any eager attendees and also for the men".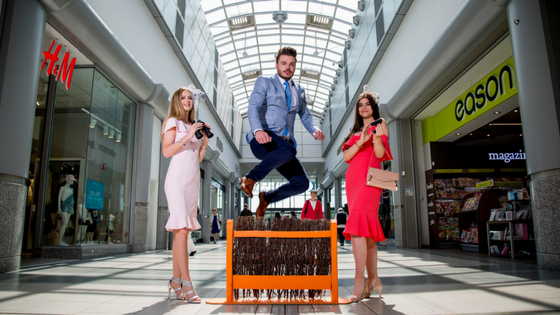 Limerick Racecourse has also confirmed a fabulous line-up for the popular Twilight Racing series 2017 taking place in June and July at Greenmount Park.  Twilight races are run off in a fast paced format, but the races are only part of the fun, there is live music, entertainment and fashion too.
The first Twilight evening takes place on Saturday 17th June with racing action from 6pm, followed by live music with The Jackie Chan Allstars.  JC Allstars are one of Munster's premier live acts performing a spectacular and entertaining show with a mixture of current music and well known hits.
Friday 23rd June is always a busy night for corporate events and sports and social outings that will enjoy the trilling racing action followed by The 4 of Us in concert from 9pm.  The 4 Of Us shot to early fame towards the end of 1989 with their debut Songs for the Tempted, which featured the massive hits Mary and Drag My Bad Name Down. The follow up Man Alive made Q magazine's prestigious Top 50 Albums of 1992 and included the UK Top 30 song She Hits Me.
In July we shall have a new summer fixture of National Hunt racing from 3pm until 6pm on Saturday 22nd of July followed by popular Limerick band Atomic Chicken who will take to the stage after racing. Thursday 27th July is the final of the twilight evenings with national hunt races followed by one of the best country music shows on the circuit performed by Michael English and his band.  Michael English is one of Irelands top Country Music Artists and winner of a Hot Country Award 2016.  Michael is entertaining audiences at home & further afield for over 20 years with his current single "will you dance" is at number 4 in the Country Music Charts.
Keep an eye on Social Media for Crescent Shopping Centre for a chance to win some great prizes along with some ideas for Races fashion this summer from Crescent Shopping Centre.
See www.crescentshoppingcentre.ie and www.limerickraces.ie for more details on Twilight Racing 2017.